Scaffolding Safety Nets - reliable plastic safety net
The scaffolding safety net is a specially designed plastic net made of high-density polyethylene material with fall protection and debris protection functions. Scaffolding safety nets are also called scaffolding nets, scaffolding debris nets, debris nets, debris protection nets, and fall protection nets. Should be generally used in construction sites, also known as construction protection nets, construction safety nets, and construction debris nets. As a protective facility, the scaffolding safety net is a rigid requirement, and all construction sites use it as a basic protection. Therefore, the safety and stability of the scaffolding safety net must be excellent.
Compared with ordinary polyethylene plastic nets, scaffolding safety nets have the following advantages.
Better protection, stronger impact resistance, thanks to the weaving density and weaving pattern of the scaffold safety net. It has greater elasticity and stretching force than ordinary nets.
Higher performance flame retardant ability. As a protective net, it needs to have flame retardant ability to deal with the safety of complex scenes. The scaffolding safety net uses stronger flame-retardant ingredients to prevent the spread of fire.
Stronger service life. In order to deal with the ultraviolet rays in the outdoor environment, a unique formula is adopted to increase the composition ratio of the ultraviolet protective agent, so it has a stronger outdoor anti-ultraviolet ability.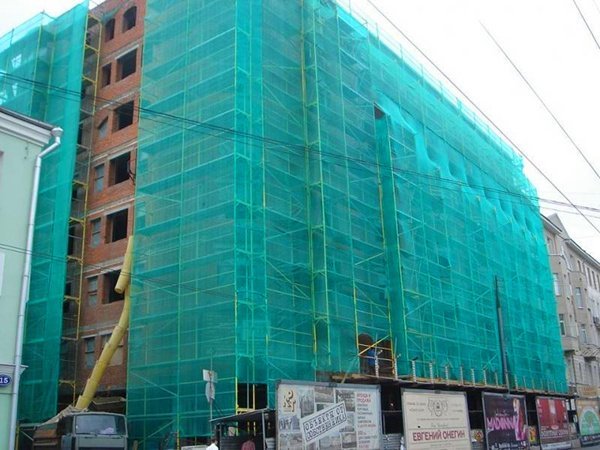 The scaffolding safety net is a necessary protective facility for the construction site. It can protect the falling debris, prevent the construction personnel from falling, and protect the safety of pedestrians. It is also very tough and can be arranged in a Y-shape as a fall protection net to increase the debris protection range.
With the advancement of science and technology, higher requirements have been placed on the protection capabilities of debris protection nets. We have invested a lot of R&D personnel to explore the new functions of the debris protection net. We have improved the flame retardant grade of the debris protection net, optimized its composition ratio, and enhanced its toughness. We are still exploring the impact of new weaving patterns on protection capabilities. We can achieve better longitudinal tensile strength and better protection against debris on the debris protection net of the same woven density. The exploration of a new type of debris protection net will never stop.
Gallery of Scaffolding Safety Nets
Products Applied for Agro Shade Cloth