The fence privacy screen is a fabric made of HDPE material. It has a reinforced edge specially designed for the fence and a convenient fixing (cable) buttonhole, which can be easily fixed on your fence or balcony. Alt name as konwn as fence privacy nets, fence screen, fence nets, privacy nets, privacy screen, outdoor privacy screen, fencing cover.
The fence privacy screen is made of polyethylene material, so it has the characteristics of light transmission. Depending on the added color masterbatch or UV stabilizer, it has a very rich color. Common colors include beige privacy fence net, dark green privacy fence net, black privacy fence net, blue privacy fence net and so on.

Just like our common fabrics, the fabrics of privacy fences also have many different weaving patterns. 
According to the density of the weaving and the pattern of the weaving, the privacy fence has different light transmittance, the common one is 80% to 95%. It also has different thickness and weight. 
The larger the weight and thickness, the higher the shading rate and the stronger the tensile strength. There are two ways to reinforce the boundary of the privacy nets. One is to increase the density of the edge weaving when weaving, while leaving the cable opening. 
The other is to increase the strength of the edge by adding additional edge support bands. With metal buttonholes, it is more refined and firmer. The accessories of the privacy fence nets are also very simple, usually nylon cable ties and ropes. It is convenient for customers to install and DIY.
Features of fence privacy screen
 With excellent privacy protection function, it can provide different light transmittance, color and size according to customer needs.
 The privacy nets have preset metal buttonholes and also provides reinforced knitted buttonholes. Easy to install and easy to install.
 Privancy fencing screen has a long service life and stable chemical properties. It can adapt to the outdoor environment. It is not afraid of moisture and salt-alkali components in the soil.
 Compared with nylon and polyester materials, it has lighter weight, greater tensile force, no water absorption, no expansion, and lower shrinkage.
 The privacy fence nets adopts imported ultraviolet protection agent, which can better resist ultraviolet rays.
 Innovative patterns and weaving technology have a higher shading rate and at the same time allow air to enter.
 The quality is stable and reliable, with a very strict quality management system and stable material suppliers.
Direct factory supply privacy screen, 20 +years experience, short delivery and best price.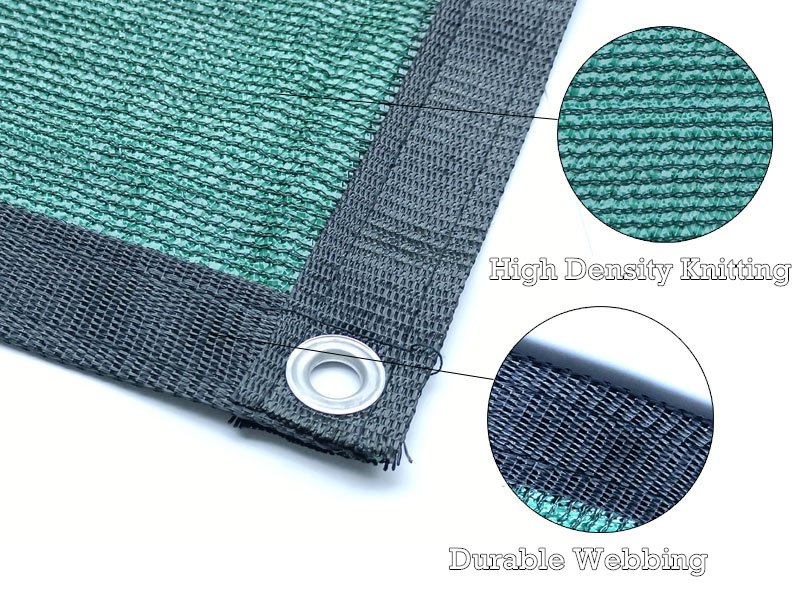 High density knitting of shade cloth makes it  protect your privacy very well , and up to 95% to provide sun shade.
Durable webbing make it easy to install against wind and snow.
Durable webbing reinforced edges and pre-installed non-rusting metal aluminum eyelet make installation very simple. And it can resist wind and snow.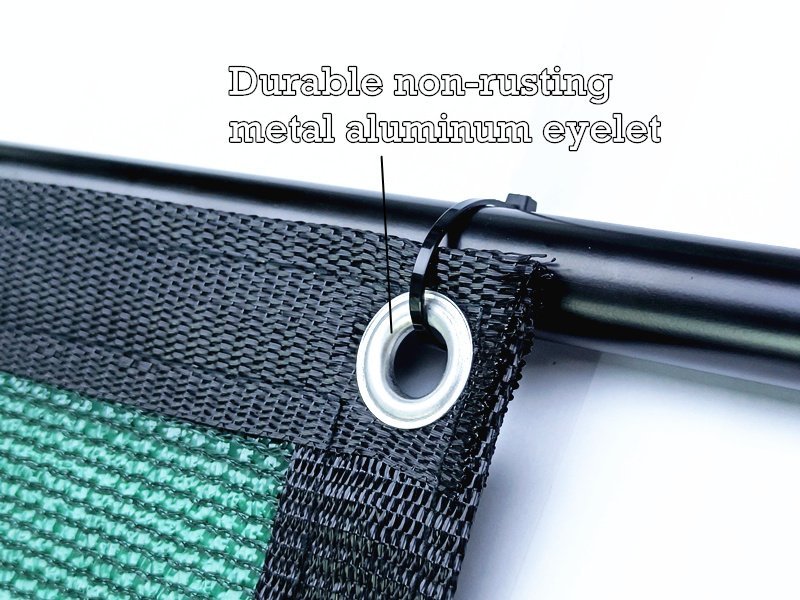 Detailed Information

Item Name

Privacy fence screen, Privacy nets

Material

100% HDPE virgin with uv treated

Type

warp knitted

Shade Rate

30%-95%

Color

dark green, blue, beige, red, white, black or as your need on net

Width

1m, 2m, 3m or as your need on net

Length

50m, 100m or as your need on fence

Life time

Minimum life 3-10 years, under normal weather conditions usage.

Type

Warp Knitted

Package

In roll or in pe bag or in carton as your need on mesh
More details about products, download the product catalogs.
Applications of fence privacy screen
Privacy fence screen are mostly used on fences in commercial areas and family residences. By cooperating with metal fences or wooden fences, they can form a very effective visual barrier. Privacy nets because of the stable characteristics of polyethylene material, it can be applied to a variety of application scenarios, can be used as a privacy fence net, fence shade net, fence barrier, fence privacy barrier, fence privacy screen, fence screen, privacy nets, outdoor privacy screen, fencing cover. Installed on an outdoor fence or support, it can effectively shield the wind, rain, create shadows, and protect privacy. It is the best visual barrier fence for residential courtyards and commercial places.
FAQ about Fence privacy screen
1
Differene about copper grommet eyelet and aluminum grommet eyelet of shade cloth.
Copper grommet eyelet and aluminum grommet eyelet are materials that will not rust. They are also sturdy enough, and their appearance is slightly different for normal environments. Of course, compared to metal aluminum, metal copper has better ductility and can withstand greater tensile and shear forces.
2
What are the characteristics of knitting eyelet type privacy nets??
These knitting eyelets are preset in the knitting cable mouth when the fabric is knitted, and the knitting stitches on the edge are encrypted. This eliminates the steps of edge reinforcement and pre-positioning of metal grommets, reducing costs. At the same time, the installation becomes more flexible. And it did not affect the strength and functionality of the fence privacy net itself. In short, more flexible, lighter and cheaper.
3
What is mono wire and tape wire in the shade cloth?
Mono has a higher strength, and tape has a larger unfolding area. Mono fiber and tape fiber can be matched with different shade cloths according to different weaving forms.
●The mono+mono shade cloth has greater toughness and strength, and a longer service life.
●Tape + tape shade cloth has a higher shading rate and higher cost-effectiveness.
●The mono + tape shade cloth is a combination of the two.
4
What is the difference between waterproof shade cloth and ordinary shade cloth ?
●Waterproof shade cloth adds waterproof coating on the basis of ordinary shade cloth.
●Waterproof shade cloth has more functions and applicable scenarios.
●And because the coating increases the toughness and strength.

Better Quality 
More Praise 
20+ year manufacturer !
We are a professional manufacturer providing wholesalers with the best quality products.
Focusing on product updates and caring for your customers.
We supply shade nets & plastic mesh at direct factory price.
200+ distributors are selling our products in their store.