Sun sail shade are a further processed product of shade netting, also through a high-density polyethylene material. Through a drawing and weaving process known as the original fabric, which is then further processed – cutting, edge reinforcement, and the addition of metal D-rings at the corners – and then matched with retail packaging, resulting in a finished OEM product. The best shade sail factory.
The sun sail shade range is becoming more and more popular because of its proven size specifications, ease of installation, combination and disassembly, and ability to provide shade to patios and courtyards. Shade sails are also known as shade sail, sun sails, sail shades.
The sun sail shade product is based on a shade cloth with reinforced edges and ends that are easily linked to ropes. They are easy to install and can be combined in a variety of ways to achieve a broader blend of functionality and landscaping.

Shade sails are available in many common sizes and dimensions, usually with individual sides less than 20 feet long. There are four shapes, square, rectangular (rectangle), equilateral triangle, and right-angle triangle. You can choose and combine them according to your needs.
Sun sail shade have a very high shade rate, and a very long service life. This is in line with commercial shade nets. The greatest creativity of the shade sail product comes from its shape and the way it is fixed. The end of the shade sail is attached with a rope to a screw that can be tightened. When installed, the entire plane of the sail is taut. The taut sunshade sail has a very beautiful appearance, just like a ship's sail. And it is possible to combine different shapes of shade sails by various combinations, overlaps, crosses, etc. The staggered high and low, red and green can form a very beautiful landscape. This kind of installation and combination gives people more flexibility, with individuality and freedom. This is also the reason why shade sails are more popular among people.
We are a premium shade sail Amazon supplier with over 10 years of experience in OEM customization. We offer a full range of OEM customization for Amazon retailers, with a variety of packaging options and a wide range of accessory options, with plenty of customization options. For shade sail, sun sails, sail shades.
 Variable shape, rich color, beautiful appearance, like a stretched sail.
 Has reinforced edges with easy-to-link ends and metal D-rings.
 High shading rate, can resist up to 95% of UV rays.
 Add German imported UV stabilizer to have a longer service life.
 Advanced processing process, fine and neat workmanship, tight stitching, no peeling, no opening.
 Stainless steel metal D-ring is used, with a service life of more than 5 years.
Direct factory supply sun sail shade, 20 +years experience, short delivery and best price.
High density knitting of sun saill shade makes it up to 95% to protect against the harmful UV rays , and 85% up to 90% to provide sun shade.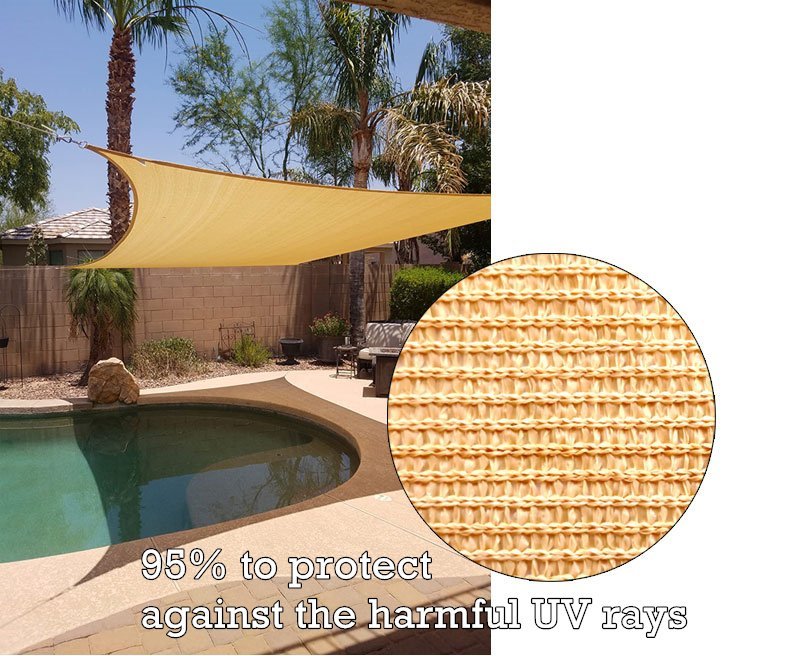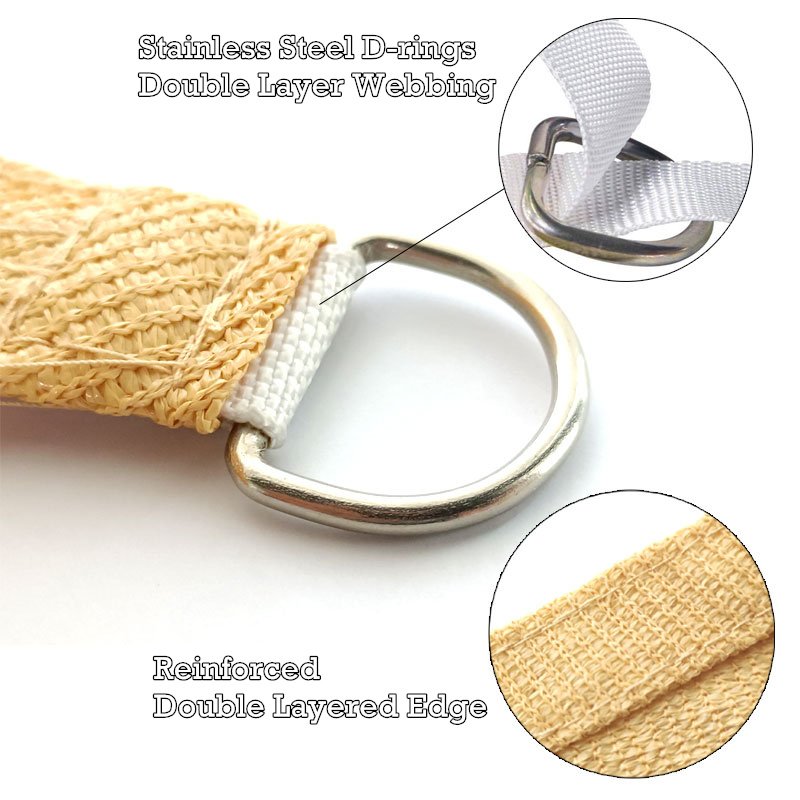 Strong stitched seam on every side and durable stainless steel D-rings with double layer webbing make the shade sail serve longer life 5+ years.
Rich shade sail hardware for choice. With a wealth of accessories, make your products more competitive. Praise is easy to get!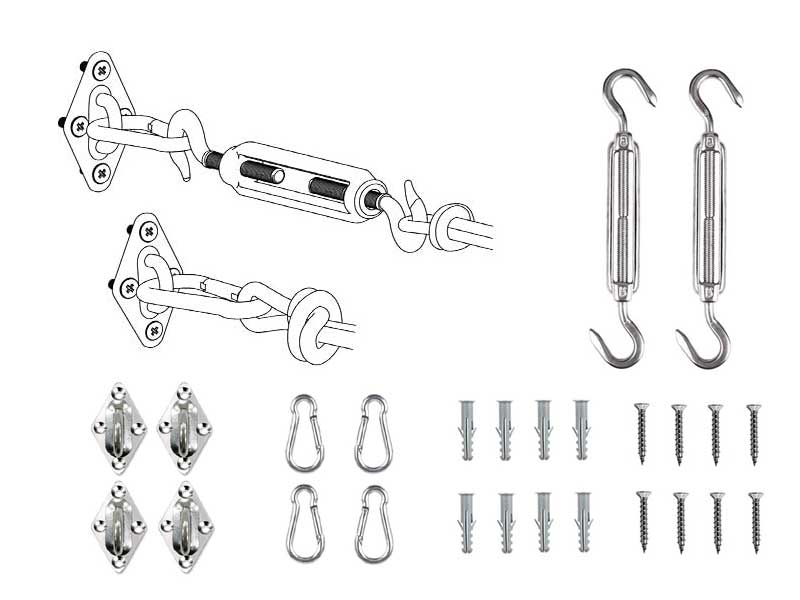 Details of Sun Sail Shades
Detailed Information

Item Name

Shade Sail

Material

100% virgin HDPE with UV stabilizer

Color

White, Ivory, Tan, Beige, Red, Terracotta, Green, Blue, Light Grey, Dark Grey.

Size

3x3m, 3x4m, 5x5m, 3x3x3m, 3x4x5m, 5x5x5m,Customized Triangle / Rectangle / Square

Breaing Strength

Warp≥50N, Weft≥1500N

Popular Weight

120gsm-350gsm , the most popular weight is 160gsm and 185gsm.

Shading Rate

Up to 85%-95% and UPF 30+

Spare parts

Long life Stainless steel 304 ring, 5mm, Reinforced webbing and Stitching.

Warranty

5 Years against UV degradation.

Packing

Plastic bag with color label inside., then pieces packing into a carton.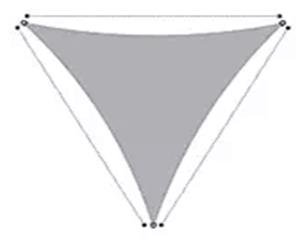 10′ x 10′ x 10′
/ 3m x 3m x 3m
12′ x 12′ x 12′
/ 3.6m x 3.6m x 3.6m
13′ x 13′ x 13′
/ 4m x 4m x 4m
16′ x 16′ x 16′
/ 4.8m x 4.8m x 4.8m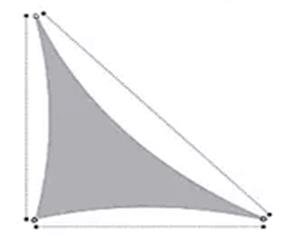 10′ x 10′ x 14′
/ 3m x 3m x 4.3m
13′ x 13'x 18.5′
/ 4m x 4m x 5.7m
15′ x 16′ x 23.5′
/ 5m x 5m x 7.1m
10′ x 13′ x 16′
/ 3m x 4m x 5m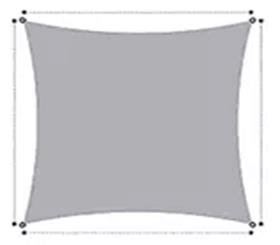 6.5′ x 6.5/ 2m x 2m
8′ x 8′ / 2.5m x 2.5m
10′ x 10′ / 3m x 3m
12′ x 12′ / 3.6m x 3.6m
13′ x 13′ / 4m x 4m
16′ x 16′ / 4.8m x 4.8m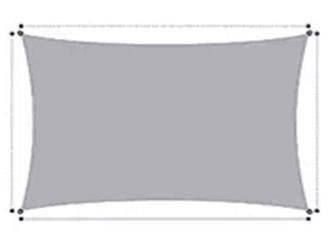 6.5′ x 10'/ 2m x 3m
6.5′ x 13'/ 2m x 4m
6.5′ x 16′ / 2m x 4.8m
8′ x 10′ / 2.4m x 3m
10′ x 13′ / 3m x 4m
10′ x 16′ / 3m x 4.8m
10′ x 19.5′ / 3m x 6m
13′ x 16′ / 4m x 4.8m
13′ x 19.5′ / 4m x 6m
Colors and Pattern of Commercial Shade Cloth
FAQ about Shade Sails
1
How to install the sunshade sail? Installation instructions for sunshade sails?
First, measure and clean the area where the shade sail is to be installed.
Second, leave the allowance of 1.5-2 ft between the fixing point and shade sail
Third, choose hyperbolic style with 2 sides higher than others.
Forth, please install at a 20-40 degree angle and the tension at corner should be 300-500N
2
What is mono wire and tape wire in the shade cloth?
Mono has a higher strength, and tape has a larger unfolding area. Mono fiber and tape fiber can be matched with different shade cloths according to different weaving forms.
●The mono+mono shade cloth has greater toughness and strength, and a longer service life.
●Tape + tape shade cloth has a higher shading rate and higher cost-effectiveness.
●The mono + tape shade cloth is a combination of the two.
3
What does 2 needle / 3 needle / 6 needles mean?
The concept of needles is how many needles are distributed in 1 inch.
● In the knitting industry, the part composed of a set of warp threads and a set of weft threads is called a needle.
● How many sets of warp and weft are distributed in 1 inch is called how many stitches.
● This is a term used to measure the density of weaving.
● The shade cloth is usually 2-needle, 3-needle, 6-needle, 8-needle.
4
What is the difference between waterproof shade cloth and ordinary shade cloth ?
●Waterproof shade cloth adds waterproof coating on the basis of ordinary shade cloth.
●Waterproof shade cloth has more functions and applicable scenarios.
●And because the coating increases the toughness and strength.
More details about products, download the product catalogs.
Applications of Sun Sail Shade
Sunshade sails can be applied in a wide variety of scenarios. The most common applications are home yard shade sails, patio shade sails, swimming pool shade sails, outdoor gazebo shade sails. The combination can also be used in parking lot shade sails, restaurant shade sails, sports field shade sails, school shade sails, shopping mall shade sails, park shade sails, park shade sails, etc.
The following photos are the details of some shade sails, including shade sails in various colors and shade sails with solar LEDs.

Better Quality 
More Praise 
20+ year manufacturer !
We are a professional manufacturer providing wholesalers with the best quality products.
Focusing on product updates and caring for your customers.
We supply shade nets & plastic mesh at direct factory price.
200+ distributors are selling our products in their store.