Privacy fencing fabric for balcony privacy screen
The balcony privacy screen is a privacy screen woven from polyethylene fibers with a high woven density. Because it uses high-density polyethylene fiber, it has a very strong shading rate, which can be as high as 95%, and can remove almost all harmful ultraviolet rays. At the same time, a very high shading rate means better privacy protection. The balcony privacy screen can cooperate with your balcony fence to build a very good visual barrier to protect your private space. Balcony privacy screen is also called balcony screen, balcony privacy fence net, privacy cloth, privacy cover and so on.
The balcony privacy screen has the following advantages, which can perfectly protect your private space.
High shading rate, better privacy protection ability, protect one's own space independence from neighbors or pedestrians.
It is convenient and quick to install. It is pre-installed with metal grommets, which can be easily fixed on the fence with a tie or rope. Convenient, fast and firm.
The balcony privacy screen has many extended functions, it can create shadows for the balcony, can provide safety protection for pets or babies, and it can shield the balcony from wind and snow.
The balcony privacy screen has a very long service life because of the use of high-density polyethylene material.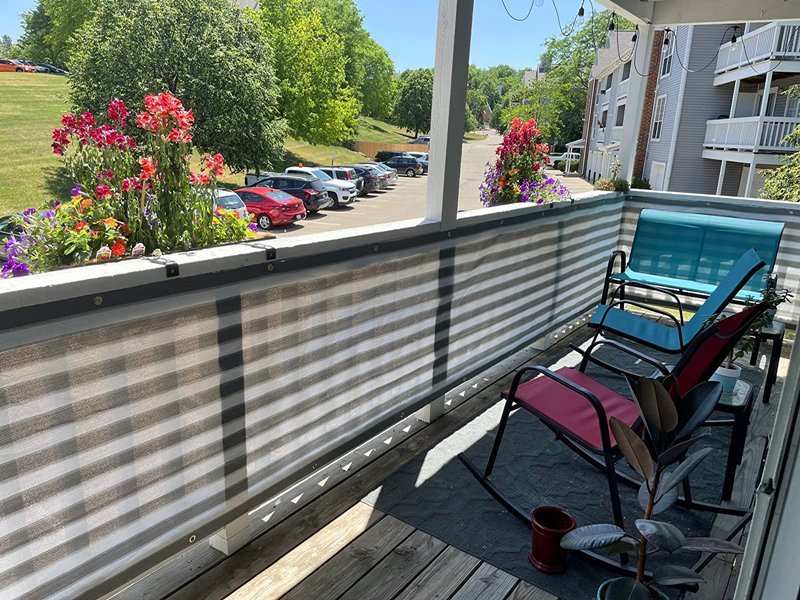 The balcony privacy screen can protect your balcony privacy to the utmost extent, allowing you to fully enjoy the independent space of your balcony and realize the balcony freedom. The balcony is a part of our space, but it is easily disturbed by the eyes of pedestrians or neighbors. The privacy screen can save you this trouble.
We focus on the deep processing technology of shade cloth and the improvement process of shade cloth. The balcony privacy screen we made is not a simple modification or deep processing of shade cloth. After years of experimentation and research and development, the new weaving technology and composition ratio constitute a balcony privacy screen with a higher shading rate, more beautiful appearance and pattern. At the same time, we have adopted meticulous design and accessories to match our products, providing distributors with more diverse product accessories and product packaging methods. With more than 10 years of OEM experience, our distributors are full of competitiveness and the most praise from consumers.
Gallery for balcony privacy screen
Products applied for balcony privacy screen